Blackpool Shows & Events
What's on in Blackpool?
If you want to know whats on in Blackpool month by month then you are in the right place. You will find details of entertainment in Blackpool including Blackpool Events and Shows in Blackpool.

Blackpool its a town full of firsts: taller, faster rollercoasters, arguably the wettest roller coaster, bigger clubs, even the biggest mirror ball in the world plus world-class shows, great restaurants, the brightest nightlife, an active sports scene and breathtakingly beautiful scenery on Blackpool's doorstep.
If you really want a break from it all , try a leisurely stroll through the Victorian splendor of Stanley Park, Blackpool's award-winning horticultural and wildlife treasure. Spot the cute, inquisitive squirrels or take in the showpiece Italian Gardens, hire a boat and float away lazy summer afternoons beside the swans on Stanley Park's boating lake.
Blackpool has numerous shows from The Opera House Theatre, The Grand Theatre, to the Pleasure Beach Shows and many more to entertain you. There is a show for all the family to enjoy.
Golfers will also find numerouse courses nearby including an extensive course at the Stanley Park, there's crown green bowling, or walks at the nearby nature reserve Marton Mere, and a host of family attractions at this popular yet peaceful retreat.

Close by is the resort's multipurpose sports centre in Stanley Park are the small but perfectly formed Model Village and Gardens. This marvel in miniature even comes complete with Blackpool trams!
The real life versions trundle along twelve miles of Promenade. They're as much a tourist attraction as a vital public transport system carrying more than 120,000 people on a busy summer's day. So hop on for the ride of your life...there's so much to see. If you prefer to walk, then marvel at the musical high-tide organ which joins the ever-growing range of giant sculptures and eye-catching artworks on New South Promenade.

You'll also find the world's largest dance hall mirror ball, measuring 20 feet across, on the South Shore section of the Promenade running from Blackpool's southern boundary at Starr Gate up towards the northern entrance of Blackpool Pleasure Beach, Sandcastle Water Park and the South Pier.
Travelling along the Promenade, at the heart of Blackpool's famous Golden Mile is the Sea Life Centre, home to more than 40 fascinating displays allowing close encounters with marvels of marine life and each year sees some new features. A collection of UV light enhanced Moon, Lagoon and Upside-Down Jellyfish.
Nearby is one of Blackpool's oldest attractions, Madame Tussaud's Waxworks, inviting you to meet and mingle with the famous and the infamous in it's many galleries. There are stars of stage and screen, soccer heroes in their own hall of fame.
Then of course a trip to Blackpool wouldnt be complete without a visit to Blackpool Tower. With its Tower Top, magical circus with Mooky, it Jungle Jim advernture land and more.
Then there's Coral Island, with it's pirate town facade: the Terror Train awaits along with the Parrot Flyer monorail in this undercover family entertainment centre.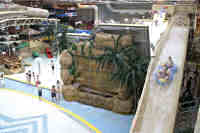 Down at the Sandcastle Water Park they're having a permanent heat wave! White knuckle water chutes, swirling slides and the giant Typhoon Lagoon wave pool combine to offer a full day of family fun amid a 'tropical climate' complete with palm trees. This tropical haven now features the fantastic "Caribbean Storm Treehouse".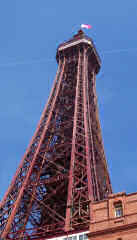 This multi level interactive water play area includes the world's longest indoor rollercoaster waterslide - The Masterblaster, Sandcastle Waterpark has brought a new wave of water entertainment to the Blackpool coast. Treetops triple family water chute and the Hydrostorm which every few minutes tips 600 gallons of water onto bathers below. In addition there are over 35 other fun interactive features including water cannons, magic jets and water blasters.
But of course you can't see and do everything in a day, which is why Blackpool offers a wealth of accommodation for everyone - from four star luxury to homely B&Bs, plus flats, apartments and caravans - to suit all budgets. In Blackpool you can enjoy the ultimate 'short break' by the sea.
A holiday in Blackpool will leave you feeling refreshed, relaxed and recharged - even if you're on the go 25 hours a day! Perhaps it's the resort's infectious zest for life. Or maybe it's just that, uniquely, whatever your routine Blackpool can offer a perfect Blackpool break from it.
So slow it down, or paint the town, the choice is yours! We're sure you'll leave Blackpool with a care-free spirit.
To view the events and shows that are happening month by month select the month below.